Auction
Engineering, Earthmoving, Forklifts, Collectable
Cars, Marine & Workshop Equipment
Under Instructions from
Mr. Paul Sebalj due to Sale of Property & Retirement
10.00am Sunday 29th June 2014
64 Cut Hill, COBBITTY, NSW
INSPECTION SATURDAY 28th JUNE 10am – 4pm
MORNING OF SALE FROM 9am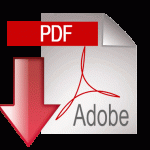 Click Here for Pre Approved Finance available
Engineering: 2012 Benson Pacific Sheet Metal Folder 3000mmx4mm, 2012 Benson Pacific Guillotine 3000x4mm, Peddinghaus Shear & Cropper Model 210 Super 20, c/w Dies, Bramley Model 077 Swaging Machine, Victor 500×2000 Lathe c/w Eason ES-8 Digital Display, Brobo Waldown S350D Cold Saw, Power Surface Grinder 460x150mm Table, First Turret Milling Machine 1.2 mtr Bed, 2006 Hafco Metal Master DMF-40 Drill Mill, Lincoln G3000-LX Weldanpower c/w 9 h/p Vanguard Motor, 1998 Hafco 7″ BS-7L Horizontal Band Saw, Cebora 403S Mig Welder c/w Wire Feeder, 1986 Hafco LCM-450 Metal Band Saw, Cebora Tig Welder & Plasma Cutter, TDG PAK Master 50 Plasma Cutter, Hafco Punch & Shear, Hafco L-69A Woodmaster Linisher & Sander, Craftmaster Pedestal Drill, Large Qty circa 40 various Power Tools, Carolina CBP5500 55 Ton Hydraulic Press, Abbot & Ashby 200mm Bench Grinder & Linisher c/w Pedestal Stand,Cat 262B Skid Steer, 36Tonne P &H 440C Pinjibcrane showing 1294 hours on crane mounted on a Nissan twin steering bogie drive carrier, c/w 2 X 8m, 1 x 5m jibs, 1 X5m clip and 4 hooks/blocks, Komatsu C200 20 ton Excavator showing 9760 hours  c/w 1 X GP1250mm bucket quick hitch hammer piping and spare GP 700mm bucket..

Earthmoving: Cat 330C Excavator 8600 hour's c/w Jaws Quick Hitch 3.8mtr Stick Hammer Lines 3 x Buckets, Ripper Shank & Fire Supression. Cat 312C Excavator 1003 hours Atlas Quick Hitch 3mtr Stick  on 700mm Plates 2 x Buckets Rock Grab Ripper Shank. Cat 279C Skid Steer Loader 864 Hours on Rubber Tracks Air Conditioned Cab Multi Purpose Bucket Back Hoe Attachment c/w 2 x Buckets. Cat 953C Track Loader 2550 Hours ROPS Air Conditioned Cab Multi Purpose Bucket and Radial Rippers on 500mm Plates. Terex Articulated Dump Truck 7544 Hours Deutz Engine on 25.65R25 Tyres.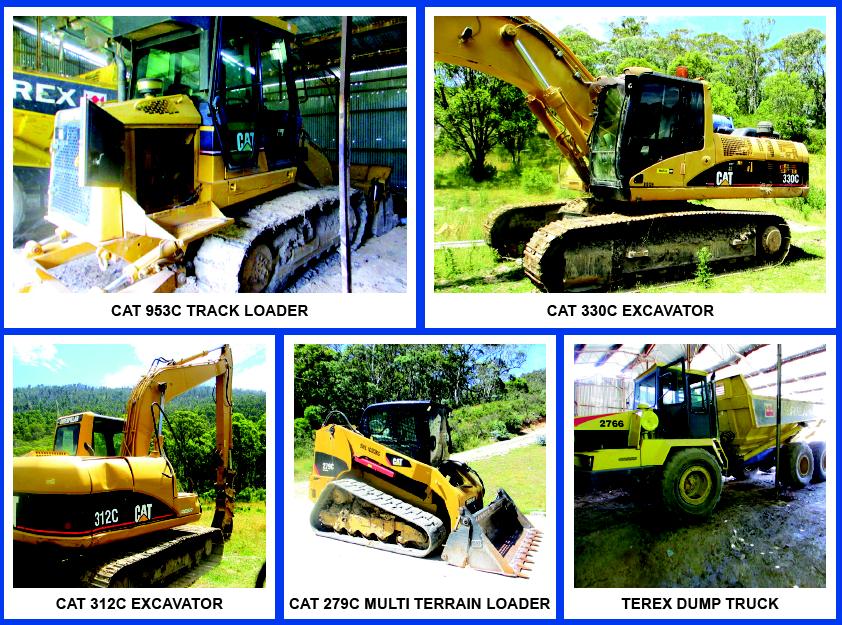 Forklifts: 2001 Linde H45 Diesel 4½ ton Forklift c/w Sideshift, 1998 Mitsubishi 2½ Ton Forklift Container mast, Dual Wheels, Side Shift, Crown 20BT108 Battery Powered Forklift.
Marine: 1997 Model 7.2 Mtr Marlin Broadbill Twin 150h/p Motors, "SS Minnow" Twin Hull Shark Cat (poor condition)
Mowers / Grounds: John Deere X495 48" Diesel cut ride on mower showing 240 Hours, John Deere 1445, 72" Cut Diesel Ride on Mower showing 405 Hours, Tractor – Boomer 3050.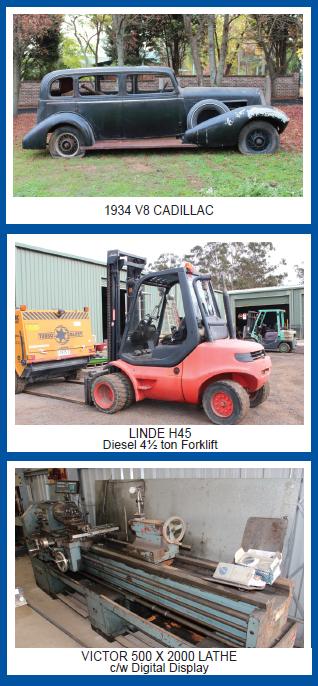 Panel Beating: Auto Robot Mini 5 Panel Beating System c/w Measuring System, ZRac Panel Beating System c/w various attachments, Deep Throat (1mtr) Heavy Duty English Wheel, Groco Airless Spray Unit, Panel Beating Equipment, Porta Power Kits, 2 x Hydraulic Porta Power Pack 1 x as new, Burwell Sand Blasting Cabinet, various Hammers & Dolleys.
Collectable Cars, Vehicles, Motorbikes: 1966 Mustang GT convertible showing 99,845 miles original very good condition, 1960 Ford Thunderbird Convertible showing 106,000 miles fully restored, 1934 Unrestored V8 Cadillac, 2002 Ford F250 Turbo Diesel Twin Cab Pickup, 2004 Lexus IS200, 2007 Mazda3, SP23 Sports Auto Hatch, 2005 Polaris Ranger 6 wheel drive 481 hours c/w hydraulic tipper & electric winch, 2008 Yamaha YZ 250F Motor Bike, 2007 Yamaha YZ 250F Motor Bike, 2007 Holden Rodeo dual cab ute, 2 Cherry buggies , Blue Electric RV Polaris, Polaris Ranger (Army Green), Dual Redco Trailer – used for transporting the 2 buggies..

Workshop: Pilot K50 Air Compressor c/w Receiver & Atlas Copco CD50 Drier, Issmac FS13/2B Concrete Saw, Tecalemit 4 Tonne 4 Post Vehicle Hoist, 11 Bays Dexion Pallet Racking, Kerrick Hotshot Etronic2 steam/pressure cleaner, Large quantity chains, slings, grabs & hooks, Numerous Trolley Jacks, Toolex 22 Drawer 1400mm Wide Tool Chest, Magna Bend, Various Kanga Hammers. Hydraulic Gear & Bearing Pulling Equipment, White 22 Drawer Tool Chest 660mm Wide
Structural Steel & Scrap Metal: Galvanised Beams 600 x 250 – 8 x 6mtrs & 8 x 15 mtrs, Pool Fencing, Light Towers Galvanised 6 x 10mtrs, Street Light Towers Galvanised Curved 6 x 7mtrs, 3 x Galvanised poles 6 x 300 x 7000, Large Qty Scrap Metal, Steel pipe & bar racking, Quantity steel pipe and tubing, Large Qty structural beams.

General Tools & Workshop Equipment: Various diesel & petrol stationary motors, Bosch Mitre Saw c/w Dewalt Extension Table, Davey 2" Fire Fighting Pump c/w Honda Motor, Lockable dangerous goods storage cabinets, Bearing Press, Oregon Electric Chainsaw Sharpener, Jonsered 670 Champ Chainsaw, Husqvarna 61 Chainsaw, 2" Hydraulic Pipe Bender, 21 Piece 1" Drive Socket Set, Industrial 600m Factory Fan, Various Kanga Hammers & Hilti Drills, 20ft Aluminium Container, Air Operated Car Ramps c/w Wheel Alignment Pads, Quantity fencing wire, barb wire, tye wire, Dust Collector, Trommel, Fuel Tank – 4500 litres, Fuel Tank – 3,000 litres, Plastic water tank on trailer 1,000 litres, 5' PTO Flail Mower, 2 x 3″ Grunfus Transfer Pumps c/w Electronic control cabinet, Mikropul Dust Collector Model HPC-450, Quantity Spreader Beams (different sizes), Push Mower, Air Compressors, Large Qty Paint, Air Hoist, Shackles, Block & Lever Tackles, Safety Lights, Safety Equipment, Camping Equipment, Hydraulic Rams, Electrical Wiring, Fire Extinguishers, Flood Lights, Venco approx. 8 Ton Hydraulic Hoist, Electric Fenciing Equipment, Metal Band Strapping Machine, McCulloch One Man Post Hole Digger, JBS 9 Drawer Toolchest 680mm Wide, Impact Sockets, Tap & Die Sets, Air Guns & Fittings, Grease Guns, Pull Alongs, 77 Piece Router Bit Set in Case, Circular Saws, Routers, Planers, Pedestal Fans, 40' Shipping Container,1 X White 20' Shipping Container,1 X Red  20'Shipping Container.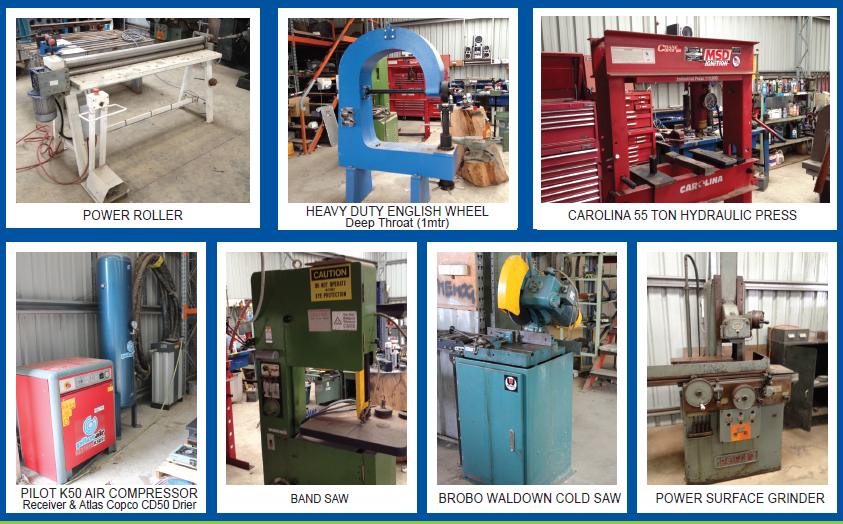 Plus Lots more…….
INSPECTION
• Saturday 28th June 10am – 4pm
• Morning of sale from 9am
PAYMENT
• 10% Cash deposit MAY be required on fall of hammer
• Balance payable by cash
• Bank Cheque or Funds Transfer
TERMS
• Sale Conducted on a GST Free basis (Earthmoving Equipment incurs GST)
• Note: 10% + GST Buyers Premium applies to all lots
• Note: 7.5% + GST Buyers Premium applies to Earthmoving Equipment
WORK HEALTH & SAFETY
• Covered footwear MUST be worn. All WH&S rules apply.
• Children under 12 must be under strict adult supervision.
ENQUIRIES:
David Purtle: 0419 630 949
Ron Bishop: 0427 191 634 (Caterpiller Equipment)
Louise Purtle: 0412 322 036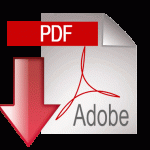 Click Here for Pre Approved Finance available